Many volunteer opportunities available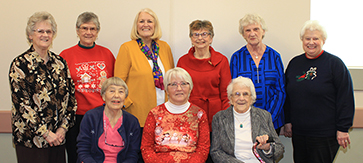 Volunteers play a critical role in both the administrative and healthcare functions at Mile Bluff. They share their talents to help deliver high-quality patient care and perform a variety of tasks at various Mile Bluff locations.
If you are 14 years of age or older, there are many ways you can make a difference at Mile Bluff. You can help by reading to patients and residents, working in the medical library, typing, delivering mail and flowers, stocking shelves, making copies, bringing reading materials to patients and residents, and much more.
The staff at Mile Bluff appreciates all the hard work that is put in by volunteers. There is no experience necessary, just a desire to give your time and talents to those who are in need. You are able to choose the times that best suit your schedule, between the hours of 8 am and 9 pm.
If you are a high school student and curious about what is offered in the medical field, volunteering is a good place to start. Students often spend time volunteering at Mile Bluff to earn credits or meet graduation requirement, as well as see what truly goes on in the healthcare world. If you are involved in other educational programs - like virtual high school - and need volunteer hours, Mile Bluff offers you a great opportunity.
If you are retired and looking for a way to stay active while giving back to the community, think about volunteering. At Mile Bluff, you get to work with a variety of great people, and you can really make a difference in the lives of others in your community.
Mile Bluff is always accepting new volunteers to help make a difference. If you are interested in joining Mile Bluff's team of volunteers, or would like more information on the opportunities available, please call 608-562-3667 today. There are options available for individuals and groups of all ages.