Experience Mile Bluff orthopedics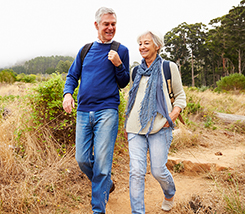 In recent years, Mile Bluff has expanded the orthopedics care that is available to patients in the surrounding community. Several new surgeons have joined the team, and brought with them decades of experience, a wealth of knowledge, and new procedures that bring 'big city' services closer to home.
Mile Bluff's orthopedics team provides specialized care for a full range of bone and muscle conditions. From caring for everyday fractures and injuries, to complex joint replacements and surgeries, Drs. Wallace Brucker, James Grannell, John Horan, and Rick Rilling provide you with the care that is needed from the onset of joint pain to full recovery from joint replacement.
Expanded Care. Local Experts.
In addition to traditional joint replacements, joint injections, muscle/tendon repairs, and minimally-invasive surgeries, Mile Bluff now offers some procedures that previously required hours of travel to receive.
Anterior hip replacements: Anterior hip replacement is a surgical procedure that replaces damaged bones in your hip joint with an artificial hip. During a traditional or 'posterior approach' to a hip replacement, an incision is made at the back of the hip close to the buttocks. With an anterior approach, the incision is made in the front of the hip, causing less damage to the surrounding muscles and tendons. The anterior approach has shown to have a quicker recovery, with reduced time in the hospital following surgery.
Hip arthroscopy: Hip arthroscopy is used to diagnose and treat a wide range of hip problems. Through a small incision, your surgeon uses a camera to guide miniature surgical instruments to the surgical area. The benefit of using a small incision results in less pain, less joint stiffness, and often shorter recovery time before you can return to your favorite activities.
Partial knee and hip replacements: A partial knee or hip replacement requires surgery only on one part of the damaged joint. It removes tissue and bone in the joint when arthritis is present in only part of the area. Even though an implant is used, the rest of the joint is preserved. These partial replacements are most often done with smaller incisions, which leads to less hospital recovery time.
Reverse total shoulder replacements: A reverse total shoulder replacement is a procedure that allows for more movement in the shoulder. It is ideal for those who have extensive damage to their rotator cuff, or who have already undergone a traditional replacement.
Endoscopic carpal tunnel release: This procedure is used to relieve the symptoms of carpal tunnel, including numbness and tingling in the hand and wrist. During endoscopic carpal tunnel release, the surgeon makes a small incision in the wrist to visualize and access the carpal ligament and other wrist structures. Because this is done with minimally-invasive techniques, the recovery time from surgery is much shorter.
Kinematically-aligned total knee replacements: This technique naturally aligns your knee by positioning the implants to the natural joint line of your knee, like it was before arthritis developed. Using special tools, bone thickness is measured and adjusted to help the implant sit in that natural knee line.
Radio frequency ablation: Radio frequency ablation uses an electric current to heat up a small area of nerve tissue to stop it from sending pain signals to the brain. It can provide lasting relief from chronic pain, especially in joints impacted by arthritis. The relief from pain can last from six months to a year or more, depending on how quickly the nerves regenerate. This procedure is used to manage knee pain for those who are not yet able to have joint replacement surgery, and others who still experience chronic pain after surgery. Radio frequency ablation is a great option for pain relief that does not involve using opioids or injections.
Experience. Mile Bluff.
It is a false assumption that choosing a standalone orthopedic clinic or 'joint center' means that you will have access to more services and experts. The truth of the matter is, that when it comes to excellence in specialized orthopedics care, you don't have to look past Mauston to find what you need. In fact, with the comprehensive program in Mauston, patients have good outcomes, oftentimes with fewer complications than at larger facilities.
The surgeons work with a multi-disciplinary team of nurses, surgical technicians, physical and occupational therapists, and certified registered nurse anesthetists to get patients up and moving. With on-site medical imaging services and short-term rehabilitation options, patients can expect to get the care they need all within one organization.
Don't wait. Call now.
Whether it stops you from being active, makes it hard to do things you've always enjoyed, or even gets in the way of doing your job, joint pain or discomfort can dramatically impact your quality of life. However, help is available at Mile Bluff.
The thought of surgery can be overwhelming, but seeking out orthopedic care does not always lead to invasive surgery. In fact, Mile Bluff's orthopedic providers are champions of conservative treatment methods such as injections, therapy and minimally-invasive procedures. Their goal is to prolong your joint health, while also keeping you moving through life comfortably.
If you find that joint pain is getting in the way of you living your best life, call 608-847-5000 to make an appointment with one of Mile Bluff's four orthopedic surgeons. Experience for yourself the comprehensive, personalized orthopedic care that only Mile Bluff can provide.