Rhonda Larson named Mile Bluff's 2019 Rural Health Ambassador
Category: News
Posted On: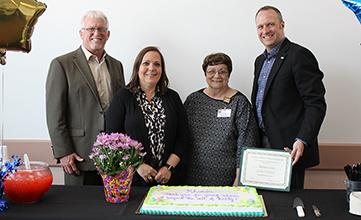 On Thursday, May 16, Rhonda Larson - Director of Mile Bluff's Acute Care and Infusion & Cancer Care departments - was presented with the Rural Health Ambassador Award. To recognize the achievement, a reception was held in her honor. Rhonda's husband, along with many of her colleagues, attended the event to celebrate and show their support and appreciation for Rhonda.
Rhonda - who has been with Mile Bluff for 16 years - was nominated by her co-worker, Natty Kranz, a former recipient of the award. "Rhonda has a farm girl work ethic," commented Natty. "If she wasn't such a great role model, I would have retired by now."
Rural Wisconsin Health Cooperative (RWHC) Director of Advocacy, Jeremy Levin, was on-hand to present the award to Rhonda. Jeremy explained that the award was established to recognize healthcare employees at RWHC hospitals who have gone above and beyond the call of duty in promoting their respective organizations, while making significant contributions to rural health.
Along with being the director of two busy departments at Mile Bluff, Rhonda keeps busy with many other responsibilities outside of the organization. Some of her various roles have included being a Girl Scout leader, a member of the New Lisbon Library fundraising committee, and organizer of the Touched Twice Clinic in New Lisbon.
Rhonda was humbled to receive the Rural Health Ambassador Award, and expressed her gratitude for all the individuals who have served as positive role models for her. "I don't think I could do the things I do without the great mentors that I have had over the years," stated Rhonda. "The people that I have been able to work with have helped shape me. Those are the kinds of things that I will never forget, because they really teach you that great work ethic."