Mile Bluff welcomes MegaCode Kelly simulation manikin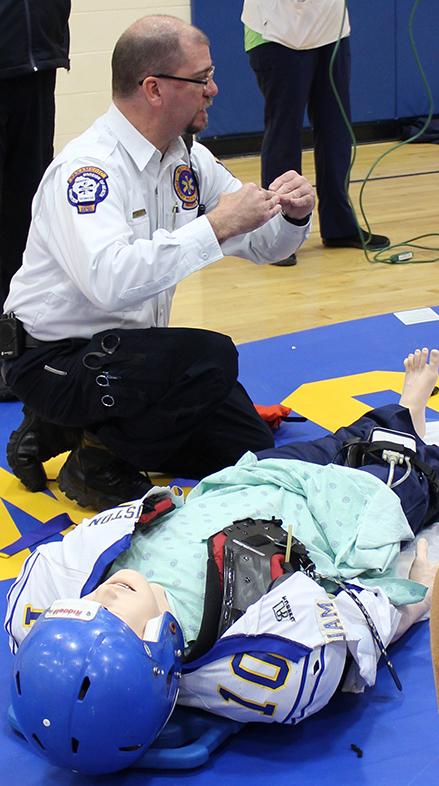 To help ensure that Mile Bluff always provides healthcare services at their finest, continued education is necessary for the team. Staying on top of the latest techniques and protocols in patient care is a must for the entire healthcare team. The education not only contributes to exceptional care but also helps staff members to maintain their licenses and certifications.
Healthcare professionals now have a new tool to aid them in staying up-to-date in the latest life-saving patient care techniques. Thanks to Mile Bluff Medical Center Foundation, a training manikin (MegaCode Kelly) now calls Mile Bluff home.
MegaCode Kelly gives educators the ability to simulate many of the different situations that nurses and other healthcare providers may find themselves in when caring for individuals with complex medical situations. Using specialized software, the manikin mimics breathing and heart sounds, pulse, and a wide range of other health conditions and injuries.
"With the Kelly, we can simulate different respiratory illnesses like pneumonia and asthma. We can simulate cardiac conditions like heart attack, as well as different traumatic injuries," explains Dena Jarog, Director of Education at Mile Bluff. "This manikin allows our ER doctors to practice procedures, and our nurses to practice patient care scenarios from start to finish."
Prior to receiving MegaCode Kelly, Mile Bluff did not have a high-tech manikin. "We had an older manikin (Annie) that could serve as a body in a bed, but there was nothing, in terms of actual testing, we could do with her. Like many of our prior models, Annie was over 10 years old and had no technology," says Dena. "In the past we could also borrow some manikins from the technical colleges, but that was becoming increasingly difficult as the programs move to more simulated education that cannot be transferred."
Educating and improving the knowledge of healthcare providers demands a wide range of high-quality training tools that meet a variety of training requirements. MegaCode Kelly is a flexible manikin equipped with technology, curriculum, and modules that accommodate training like CPR, ACLS, NBC, trauma, bleeding control, and first aid.
"A lower-tech manikin is not capable of providing practice situations for listening to heart and lung sounds, or practicing procedures that may be painful or higher risk," explains Dena. "The Kelly allows students and staff to practice skills that they may encounter in the real world of healthcare, whereas our Annie mainly allowed students and staff to have a visual of a body in a bed."
As an educator, Dena is grateful to have this new technology available at Mile Bluff. "I am very excited to have MegaCode Kelly. Simulation is the way nursing education is progressing. When we are doing training, the manikin allows me to give a health scenario to our staff that they may encounter on a less frequent basis and have them practice it without the need to use a real patient," says Dena.
"Having MegaCode Kelly is also a great opportunity to help other providers in our community. We are able to take this manikin to local EMS workers and let them practice their skills too," continues Dena.
It is through the generous donations of businesses and individuals, that the foundation is able to purchase the MegaCode Kelly. Watch Mile Bluff Medical Center Foundation's Facebook page to learn more about additional new equipment as it arrives. If you want to impact the health of the community through the foundation, call 608-847-1495, or visit Our Foundation.