When medication isn't the best 'medicine'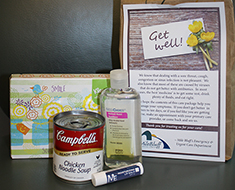 Dealing with a sore throat, cough, congestion or sinus infection is never pleasant. Unfortunately, most of these illnesses are caused by viruses that do not get better with antibiotics. Because of this, prescribed medication is generally not the answer.
Often times, the best 'medicine' is to get some rest, drink plenty of fluids, and eat right. To give patients a little extra 'medicine' to ease their symptoms, Mile Bluff's Emergency & Urgent Care Department (ER/UC) is handing out get well packages.
The packages include items such as facial tissue, soup, chapstick and hand sanitizer. This 'medicine' will be given to patients who come to ER/UC for an illness that is diagnosed as a virus that is not treatable with antibiotics.
In addition to providing comfort to patients, this initiative goes along with Mile Bluff's commitment to reduce the use of unnecessary antibiotics through active antibiotic stewardship.
If patients don't notice an improvement in their symptoms within seven to ten days, they're encouraged to visit their primary care provider, or to return to Mile Bluff's ER/UC for further assessment.